Sniggily Wiggily's - 07 Feb 2020
.


Come join Carry the Lost and Shadow of Everest at Sniggilys on February 7th for a night of heavy riffs, cold drinks, and live music! Doors at 9!
Carry the Lost is fresh off the release of their new hit single " Battle Tested ", and will be bringing their raw and infectious 4-piece hard rock sound to the Sniggilys stage, with Shadow of Everest closing out the night and bringing you their own brand of heaviness, complete with original, head banging grooves.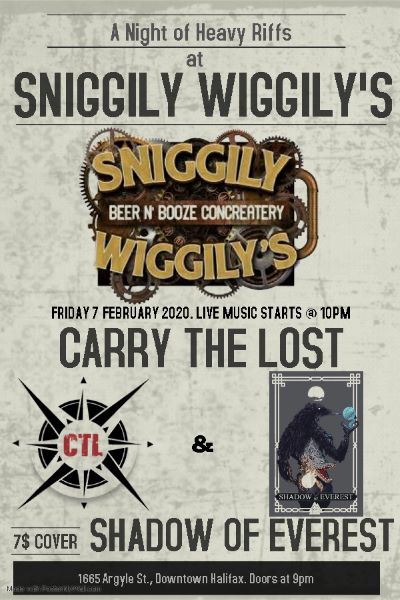 "Battle Tested" Single and Video Release
We're beyond excited to finally share our first single off our upcoming debut album with you guys! Hopefully you enjoy listening to it as much as we enjoyed making it! Crank it up!



The nighttime's calling, hello, my old friend in need, where do you want to begin?
I've made up my mind, turn towards my proclivity, my Achilles heel.
'Cause I don't know what I like, and I just want to feel alright.

Battle-Tested, war struck lately, look around and you'll see what I see, scars so deep that you'll never see what's wrong (see what's wrong).
Eyes of fire, a burning voice inside, uncage the animal, let him come to life,
(the rage sweeps in like a storm again),
You better watch yourself to save your skin.

My inclination, my fixation on a dire need,
To make myself come to life.
It's not an addiction, it's a built-in frickin' part of me, my Achilles heel.
'Cause I don't know what I like, and I just want to feel alright.

Battle-Tested, war struck lately, look around and you'll see what I see, scars so deep that you'll never see what's wrong (see what's wrong).
Eyes of fire, a burning voice inside, uncage the animal, let him come to life,
(the rage sweeps in like a storm again),
You better watch yourself to save your skin.

Battle-Tested, war struck lately, look around and you'll see what I see, scars so deep that you'll never see what's wrong (see what's wrong).
Eyes of fire, a burning voice inside, uncage the animal, let him come to life,
(the rage sweeps in like a storm again),
You better watch yourself to save your skin